Do you know how safe your hospital is?  Death and complications rates vary widely among hospitals, even in the same city.
"Go to the Wrong Hospital and You're 3 Times More Likely to Die"
"…researchers found that patients at the worst American hospitals were
three times more likely to die and 13 times more likely to have medical complications
than if they visited one of the best hospitals."
NY Times Dec. 14, 2016
Hospitals are the Key to determining Healthcare Quality
Since publishing Finding the Best Healthcare You Can Afford  last spring, we have focused on hospitals because.
Choosing a hospital makes finding a doctor much easier, especially if you live in a metropolitan area where there may be literally thousands of doctors from which to choose.
Hospital quality is measurable, whereas individual doctors can be judged only by indirect measures, such as board certification, group practice and hospital affiliation.
There are numerous organizations that rate hospital safety and quality, including Leapfrog, US News, Consumer Reports and various health plans that tend to favor their network providers. which may be chosen based on cost or other factors rather than safety.
While all of these organization take into account the deaths and complications results provided by CMS, all of them combine those outcomes with many other considerations.
We think it is important for the consumer to have direct access to hospital outcomes, as measures by deaths and complications.  As a result, we have take a deep dive into the data and developed a national rating system by comparing rates of death and complications for almost 4,000 hospitals.  We are developing a more comprehensive database that includes safety ratings from various sources, such as Medicare and the Leapfrog Group.
Hospital Safety Grades not Good Predictors of Outcomes
While some major teaching hospitals receive a Hospital Safety Grade of "A", others have received "C"s and at least one received an "F" in 2017.  Researchers at the University of Michigan concluded Hospital Safety Grades don't reflect comparative death and complication rates (outcomes).
"As seen in the Figure (below), patients treated at hospitals receiving safety grades of D or F (n = 145) had slightly higher 30-day mortality for both medical and surgical admissions. …. Despite worse outcomes in hospitals with safety grades of D or F, the safety composite score did not discriminate outcomes in the remaining hospitals. Specifically, there was negligible difference in mortality or complication rates among hospitals receiving A, B, or C grades. There were no statistically significant differences across grades for readmission rates" (emphasis added)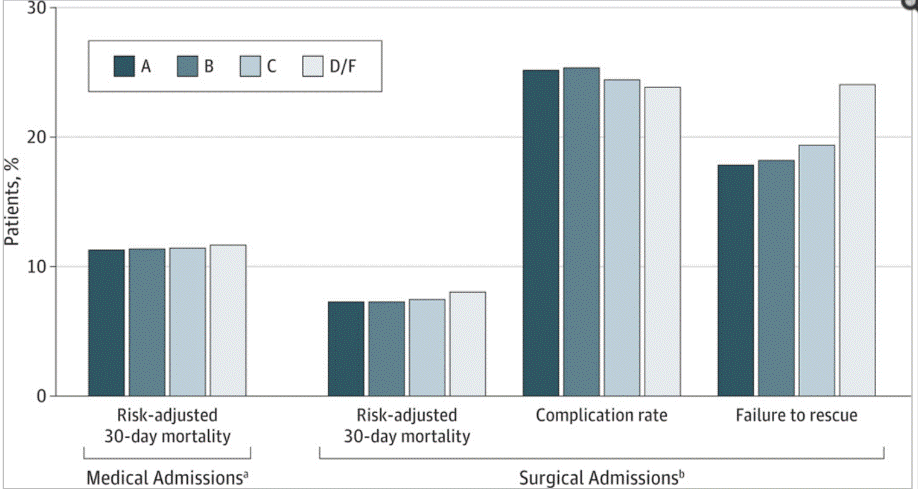 from "Hospital Safety Scores: Do Grades Really Matter?"
by Andrew A. Gonzalez, MD, JD, MPH and Amir A. Ghaferi, MD ) 
Hospital Outcomes Scoring (HOS) focuses on Deaths & Complications
While researching Finding the Best Healthcare You Can Afford, we found it difficult, even with the best of hospital rating services, for the consumer to find and use CMS hospital outcomes (deaths and complications) as a basis for choosing a safe hospital.  As a result, Amory Associates has created a new hospital rating system – Hospital Outcomes Scoring (HOS) System – based on death and complication rates compiled by the Centers for Medicare & Medicaid Services (CMS).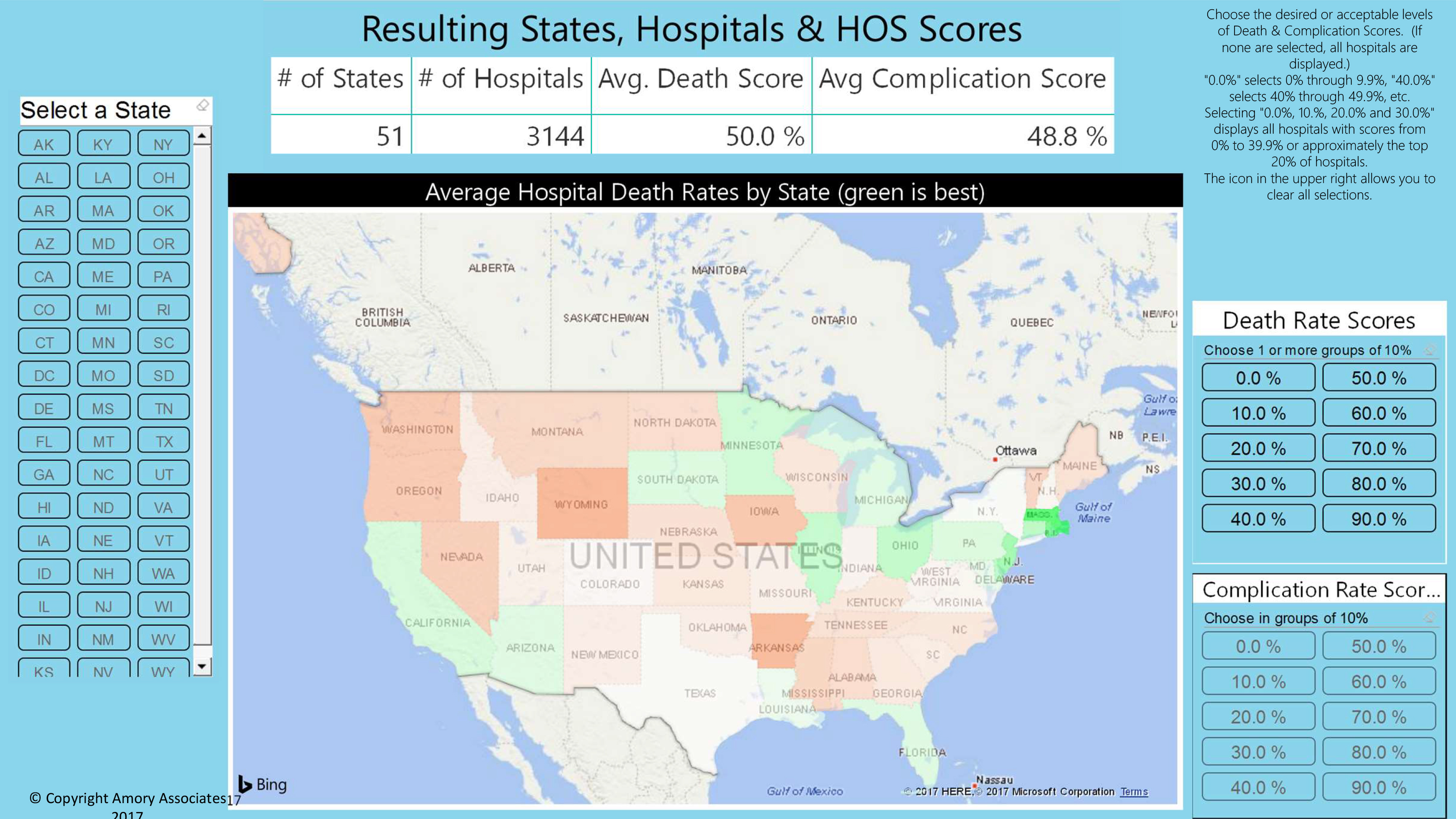 For more about HOS go to Hospital Outcomes Scoring System.  To be notified when details about the safest hospitals in your area become available, add your name to our mailing list.
[1] Medical Errors Are No. 3 Cause Of U.S Deaths, Researchers Say, May 3, 2016 NPR.org